2a: Recording and Editing Audio
Suggested deadline: November 14
Okay, there's no time like the present — let's record some audio.
You don't need to worry too much about the outcome here. The goal is to play with the kinds of tools you will be using and just get a feel for how much you need to learn about audio editing to accomplish your goals.
Step one: Record about two minutes of audio. This can be you reading an essay or giving an impromptu monologue, or you can interview someone, or you can collect some audio you might use in a documentary-style project.
Use the best tools you have access to — but if that's your smartphone voice memo app or a Zoom headset plugged into your computer, that's a fine place to start. If you're working on your computer, you can record directly into Audacity or GarageBand, which you can then use to edit the file, too.
Step two: Make a production choice in an editing program. This is a wide-open task, but here are some suggestions:
Make cuts to the audio that sound seamless.
Raise or lower the volume of the original audio.
Fade some piece of free-use music in or out of the recorded audio.
The goal here is just to get you in and playing with a sound editing program. When you're finished, export as an mp3 file.
Step three: We encourage everyone to transcribe their audio projects — accessibility isn't optional! We have a brief video showing how TRU folks can use Kaltura to create a transcript.
If you don't have access to Kaltura at your institution, here's a tutorial on how to crib your transcript from YouTube.
Step four: Create a new post, this time using the category Audio Experiments. Tell us a bit about your project (no more than a paragraph or two!) and then use the Add Media function to insert your audio file. You can also paste in your transcript to your post! Make sure you use the Audio Experiment category so we can see your post aggregated here.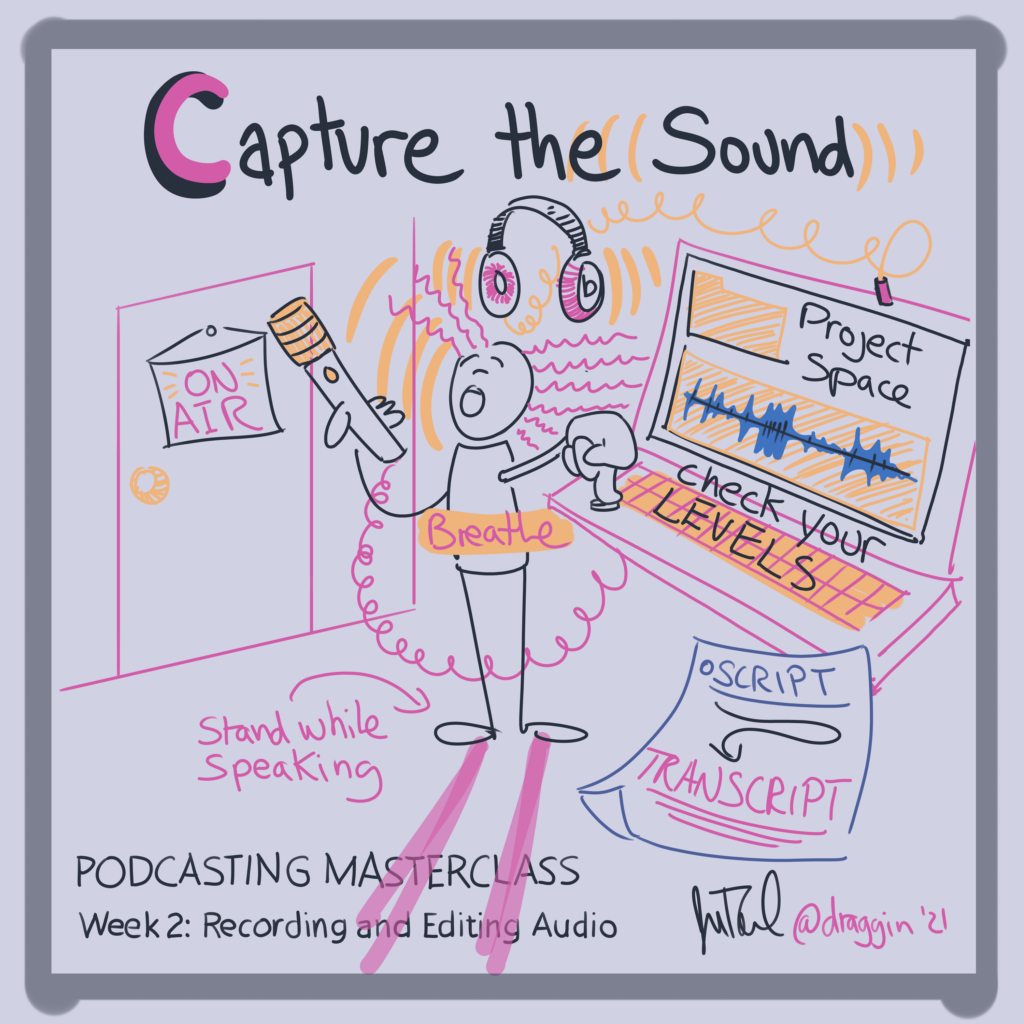 In the Fall 2022 iteration of this course, Week 2 Assignments are due on November 14. There's no discussion this week because we're observing Remembrance Day at TRU, but you can sign up to join our other live discussions by clicking here. And whenever you are accessing this course, we offer support via our Mattermost Team, which you can join by clicking here.